Hi! I'm Theresa McSwain. I have worked with children in schools and home programs for many years. I have seen how eating healthier foods can make a huge difference in the daily lives of children. I have seen how eating better has helped kids have better focus, a calmer demeanor, and better decision making. I have also seen parents (usually moms) with a desperate desire to feed their children healthier, but struggling to actually put healthy foods on the table.


Does this sound like you?

How often do you realize its already 6:00, think I have to feed this family something to eat, and then stand in front of the fridge thinking I have no idea what to cook?

Are you or a family member suffering from ichy skin, eczema, digestive issues, inability to focus, headaches, or food sensitivities? You think some of the foods you are eating are causing some of these symptoms, but you are not sure what to do?

Do you or a family member have problems sleeping through the entire night?

Do you feel guilty about feeding your children take out, fast food, or quick packaged foods, but it is overwhelming thinking about how to do something different with your busy schedule?


What if things could be different?
What if you could take the stress out of serving your family a healthy meal?
What if you and your family could wake up in the morning feeling refreshed, energized, and ready to start your day?
What if you had a simple plan to quickly and easily serve healthier foods?
What if your family could have a happy vibrant mindset around food?
This is all possible.
I created my
"Healthy Eating, Happy Kids, Vibrant Family Program"
with the entire family in mind. The purpose of this program is to empower parents to take control over your health and the health of your children by serving healthier meals.
This program can give you confidence when making food choices for you and your family. It can give you support so you can relax and actually enjoy meal time.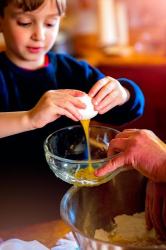 My Healthy Eating, Happy Kids, Vibrant Family Program
is a 30-day program for the entire family. It is ideal for anyone looking to ditch the processed foods. This program helps everyone in the family learn new habits that create a positive mindset around meal time. It is for parents who are frustrated and stressed with creating meals, and then feeling like everyone is complaining and won't eat what is served. This is for families who don't have endless amounts of time to spend in the kitchen.
Included in this program:
-- 2 50-minute sessions with Theresa
-- 2 15-minute checks ins
-- Meal time strategy guide to creating quick and simple healthy meals the whole family will enjoy. Including a family meal plan template.
-- Meal prep program that explains how to batch cook meals for the entire week in a few hours to save time in the kitchen.
-- Guide to becoming an ingredient analyst to decipher confusing food labels when shopping at the grocery store.
-- Children's workbook that teaches what foods give our body energy and why we should eat healthy.
-- Tons of quick and easy recipes for super busy people that are made from real, whole foods including a recipe packet with:
crockpot dinners, smoothies, 30 min or less meals, on the go breakfast, and
instant meals when there is not time.
Sign up here for your free 20 minute strategy session today,
where we can discuss your top health concerns for your family
and you can learn more details about this program.


Sign Up Now